The British Bike Bonanza
2011 saw the 30th International pre-65 scramble
Alongside running his business, in 1982 Adrian organised the first motorcycle scramble for pre-65 machines, at Moorhouse, Brimsfield, Birdlip, Gloucester.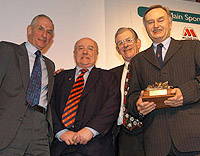 With 41 riders taking part this first year, many more were enthused by it and the event promised to be back the following year by popular demand.
Sure enough, the very next year saw entries triple to 120. The British Bike Bonanza has continued to be a fantastic success with entries reaching 250. In 2006 Adrian's efforts were rewarded by being presented with the "Motorcycle Event of the year" by Derek and Don Rickman at the Historic Motor Sport Awards Charity dinner celebrating the achievements of Historic motor sport.
Now completed it's 28th year, the International British Bike Bonanza is still thriving, with another bumper gate recorded this year to see special guest star Vic Allan and many other top riders. It's held at the new venue of Sallywood, Horsley, Nr Nailsworth Gloucestershire.
A big thank you to all those who attend and support the International British Bike Bonanza.
Your British Bike Bonanza memories
We thought we'd include some links to some of your own video's of the Bike Bonanza,
so why not click the video links to watch some action!
Rickman Motorcycles Ltd are not responsible for the content provided by other websites.